The Las Vegas Electric Vehicle Association will hold its next general monthly meeting on Saturday, March 11th, from 10 AM to noon.
Each LVEVA general monthly meeting is usually staged on the second Saturday of each month with ad hoc EV workshops staged on alternate Saturdays to help with different member's EV conversion projects.
The location of this upcoming general LVEVA meeting will be in the second floor conference room at Gaudin Ford dealership located at 6625 W. Roy Horn Way, Las Vegas, NV 89118.  The dealership is located south of the highway 215 beltway near Rainbow and Warm Springs.
Topics of discussion will include latest developments about the Faraday Future FF91 electric car and proposed factory at Apex Industrial Park in North Las Vegas.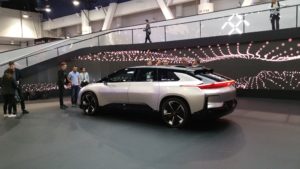 Tesla Gigafactory in Storey County, NV is hiring, with a preference for Nevada employees thanks to a tax credit incentive.
Panasonic has been staging Job Fairs in Las Vegas, looking to fill job positions for Materials Handlers, Production Operators, Maintenance Technicians, and Shift Leads. Prospective employees need to be willing to relocate to the Reno/Sparks area and also be willing to work 12-hour shifts at the Tesla Gigafactory to produce battery cells for next-generation Model 3 electric car. For more information or to register for a job fair, email Panasonic Employment North America at:
PENARecruiting@us.panasonic.com
Tesla also released a video of the battery cell production line in action:
"Published on Jan 5, 2017 by Tesla Garage:
'…the exit rate of cells will be faster than bullets from a machine gun.' Elon Musk.
The new cell format, 21 millimeters in diameter and 70 millimeters long, provides significant improvements in energy density over the more traditional 18650 cells currently being used on its fleet of vehicles.
The high performance cylindrical "2170 cell" was jointly designed and engineered by Tesla and Panasonic to offer the best performance at the lowest production cost in an optimal form factor for both electric vehicles and energy products."
Other topics of discussion will include an election for two new Board of Director members to fill vacant positions, the latest EV industry and charging station infrastructure news, progress descriptions of member EV restoration efforts, and scheduling of an EV workshop series beginning in March.
Come join the fun and good fellowship to support the development of electric car infrastructure within the state of Nevada.