The Las Vegas Electric Vehicle Association will hold its next general monthly meeting on Saturday, April 8th, from 10 AM to noon.
Each LVEVA general monthly meeting is usually staged on the second Saturday of each month with ad hoc EV workshops staged on alternate Saturdays to help with different member's EV conversion projects.
The location of this upcoming general LVEVA meeting will be in the second floor conference room at Gaudin Ford dealership located at 6625 W. Roy Horn Way, Las Vegas, NV 89118.  The dealership is located south of the highway 215 beltway near Rainbow and Warm Springs.
Topics of discussion will include latest developments about the Faraday Future FF91 electric car and proposed factory at Apex Industrial Park in North Las Vegas.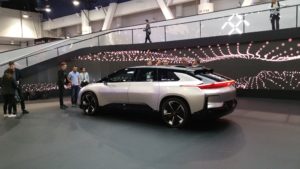 Earth Day celebrations on Saturday, April 22nd at Downtown Summerlin will include GreenFest 2017, a procession of alternative-fuel vehicles, and a Clean Energy Drive display that will feature plug-in electric vehicles from Gaudin Porsche and other local car dealerships:
https://www.facebook.com/GreenFestLasVegas/
Other topics of discussion will include nominations for two new Board of Director members to fill vacant positions, as well as the latest EV industry and charging station infrastructure news, and progress descriptions of member EV restoration efforts.
Come join the fun and good fellowship to support the development of electric car infrastructure within the state of Nevada.