The September general meeting of the Las Vegas Electric Vehicle Association will coincide with National Drive Electric Week celebrations being staged in 170 cities worldwide during the week of September 9 – 17, 2017.
https://driveelectricweek.org/event.php?eventid=983
The LVEVA will host an electric car rally at Springs Preserve museum parking lot from 10 AM to 2 PM on Saturday, September 9th, located at: 333 S Valley View Blvd, Las Vegas, NV 89107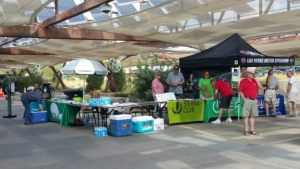 The electric car gathering will be staged beneath a canopy of photovoltaic solar cell panels that each track the sun. The panels shift orientation gradually during the day to maximize the absorption of desert sunshine.
Two ChargePoint stations with four SAE J1772 AC Level 2 plugs are available for electric vehicles to recharge from energy generated by the sun, while visiting the electric vehicle event.
Vendor and non-profit organizations can provide information about electric car technologies and support infrastructure to visitors. Dozens of different electric car models will be on display from Tesla, GM Chevrolet, Nissan, Ford, Porsche, BMW, and other automotive manufacturers throughout the day.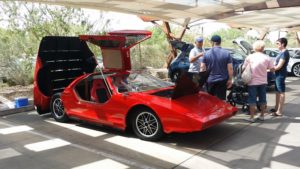 Vintage and custom EV conversions, along with electric motorcycles and electric bikes will also be displayed.
Free refreshments and drinks will be available.
Sponsors include Nissan, NV Energy, Plug-in America, Sierra Club Toiyabe Chapter, Clean Energy Project, Verdek, ChargePoint, Las Vegas Tesla Owners group, the Nevada Electric Vehicle Accelerator (NEVA) program from REA250, and the Drive Clean Energy Las Vegas program from Green Alliance of Nevada.
Discount tickets are also available for the Springs Preserve grounds and museums during the same day.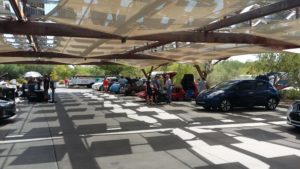 Come bring the family to learn how easy it is to adopt an electric car lifestyle today.