Thank you for visiting the website of the Las Vegas Electric Vehicle Association, a local chapter of the international Electric Auto Association:
www.electricauto.org
Monthly meetings of the LVEVA are held on the second Saturday of each month at the Switch Innevation Center in a third floor conference room from 10 AM to noon at:
6795 S Edmond St, 3rd Floor, Las Vegas, NV 89118
Take the elevator from the ground floor up to the third floor and follow the signs to the LVEVA meeting conference room.
The next meeting is scheduled for Saturday, May 13, 2017.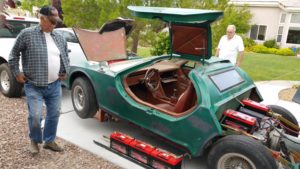 Our non-profit organization promotes the use of plug-in electric vehicles within the state of Nevada to create a cleaner environment, lessen the state's dependence on fossil fuels, avoid involvement in destructive wars over scarce resources, and provide economic benefits to the local economy through the consumption of renewable electric energy for transportation.