On March 8th, the Southern Nevada Strong coalition hosted an educational discussion about electric vehicles. The event was organized by Marie Steele, Manager of Electric Vehicles and Renewable Energy at NV Energy, with support from the Nevada Governor's Office of Energy and the Southern Nevada Regional Transportation Commission.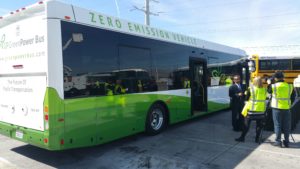 The location of the EV presentation was at the Mobile Training Center of the RTC in Las Vegas and featured electric buses from Proterra, NAVYA, GreenPower Bus, and Adomani, as well as electric cars from Nissan, Tesla, and BMW.
Ahern Energy provided portable solar-powered trailers that supported a ChargePoint AC Level 2 charging station to replenish the battery packs of the vehicles on display while parked.