The Las Vegas Electric Vehicle Association held its monthly general meeting at Findlay Chevrolet in the dealership's conference room from 10 AM to noon on August 12th.
Findlay Chevrolet is located near South Rainbow Blvd. and Hwy 215 intersection at:
6800 S. Torrey Pines Drive, Las Vegas, NV 89118
Contact Tel: 782-982-4000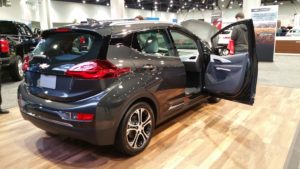 This month's meeting featured a special presentation about the Chevrolet Bolt EV electric car that will be making its Nevada debut during September 2017.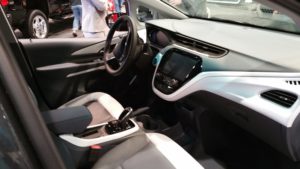 Doug Fleming, General Manager of the Findlay Chevrolet dealership, gave all attendees the latest Bolt EV 2017 brochure that included vehicle specifications, as well as optional vehicle colors, interior trim, and 17-inch wheel designs.
A 60 kilowatt-hour battery pack and electric motor drive train enable the Bolt EV to travel 238 miles between charging sessions, while accelerating from zero to 60 mph in just 6.5 seconds with 226 lb.-ft. of torque.
A myChevrolet mobile app allows integration of a personal mobile phone with the operation of the vehicle and the onboard MyLink 10.2-inch, touch-screen console display through either Apple CarPlay or Android Auto. A built-in WiFi hotspot, voice recognition and voice feedback capabilities offer additional "hands-free" operation features for the driver, converting the Bolt EV into a mobile phone on wheels.
Energy Usage and Range Analysis screens give the driver real time feedback on driving performance.
There are two basic model package configurations, the Bolt EV LT and the Bolt EV Premier. The Premier model has a Driver Confidence package of accessories that include more Advanced Driver Assistance Systems, as well as a Comfort and Convenience package that includes heated seats.
More specifications and features can also be found online at the GM Chevrolet website:
http://www.chevrolet.com/byo-vc/client/en/US/chevrolet/bolt-ev/2017/bolt-ev/features/trims/?styleOne=388584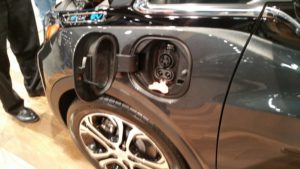 LVEVA Vice-President Justin Steele ordered a 2017 Chevrolet Bolt EV Premier and a 2017 Chevrolet Volt plug-in electric hybrid vehicle for his family, to replace his existing 2012 Nissan LEAF and 2012 Chevrolet Bolt.
The 2017 Chevrolet Bolt EV is a game changer for the automotive industry and has won several awards that include Motor Trend 2017 Car of the Year and Green Car Journal's 2017 Green Car of the Year.
GM is also basing its autonomous vehicle research efforts on the Chevrolet Bolt EV platform. The company's Cruise ride sharing program is under development in San Francisco. Four modified Chevy Bolt EVs were seen charging at the Desert Research Institute on Flamingo Road in Las Vegas during August 2017.