The September general meeting of the Las Vegas Electric Vehicle Association coincided with National Drive Electric Week celebrations being staged in 270 cities worldwide during the week of September 9 – 17, 2017.
https://driveelectricweek.org/event.php?eventid=983
The LVEVA co-hosted an electric car rally at Springs Preserve museum parking lot from 10 AM to 2 PM on Saturday, September 9th, located at: 333 S Valley View Blvd, Las Vegas, NV 89107
The electric car gathering was staged beneath a canopy of photovoltaic solar cell panels.
Two ChargePoint stations with three SAE J1772 AC Level 2 plugs were available for electric vehicles to recharge from energy generated by the sun.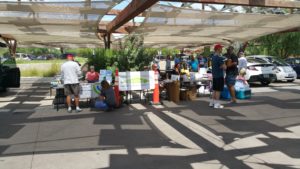 About 150 attendees and 40 vehicles visited the event during the day.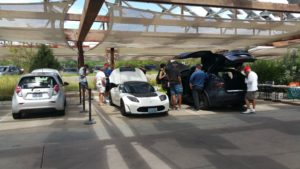 Vendor and non-profit organizations provided information about electric car technologies and support infrastructure to visitors. Plug-in electric car models were on display from Tesla, GM Chevrolet, Nissan, Ford, Fiat, BMW, Daimler and other automotive manufacturers throughout the day.
Sponsors included Nissan, NV Energy, Plug-in America, Sierra Club Toiyabe Chapter, Citizens Climate Lobby, Verdek, ChargePoint, Las Vegas Tesla Owners group, the Nevada Electric Vehicle Accelerator (NEVA) program from REA250, and the Drive Clean Energy Las Vegas program from Green Alliance of Nevada.
Jane Feldman from Sierra Club Toiyabe chapter shared a video of the NDEW event on her Facebook page:
https://www.facebook.com/jane.feldman1/videos/pcb.10155337926952771/10155337881287771/?type=3&theater
NV Energy supplied a walk-through "Renewable Generations" trailer exhibit that showcased solar thermal, solar photovoltaic and wind generation technologies.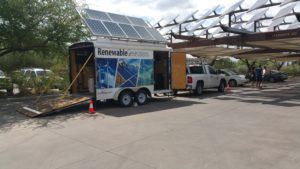 Mark Larsen drove his Nissan LEAF from St. George, Utah to the Springs Preserve in Las Vegas and back over the weekend, chronicling his journey both ways, as well as his visit to the NDEW gathering: http://bit.ly/ndewvegas
"A good time was had by all!"